Culinary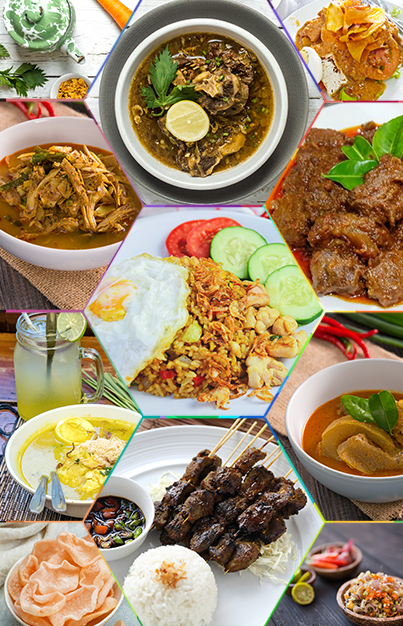 Indonesian Cuisine
Indonesian cuisine consists of a collection from various regional culinary tradition. There are a wide variety of recipes and cuisines due to the existence of more than 1340 ethnic groups which spread out all over in 17,508 islands. Geographically, Indonesia, known as the spice islands, had been a trade route that is located in the crossroad between two continents and two oceans. Thus, its cuisine had been influenced by India, China, the Middle East and Europe.
Currently, from more than 3000 identified cuisine, the Ministry of Tourism and Creative Economy has announced 5 (five) national food namely soto, sate, nasi goreng, rendang, and gado-gado.
This national food can be found in many versions across the country. Satay, for example, has at least 20 different recipes adopted in different regions, depending on the local taste and availability of ingredients. For example, the Balinese satay lilit uses fish, coconut shreded, coconut milk and lemongrass. On the other hand, satay from Padang is drenched in a curry-like sauce typical to Padang cuisine.