Indonesian Traditional Textiles
Indonesia as a multiethnical and multicultural country has been known for its outstanding array of traditional textiles. Indonesian traditional textiles do not just serve as mere a piece of cloth, but also represents hope and prayer of wearers, as well as the status in societies. Located on the crossroads of ancient migration and trade routes, the Indonesian archipelago was under influence of many foreign cultures from around the globe. Each ethnic or region has their own identity in term of fabrics, material, technique, colour and motifs. Basically, there are three major traditional textiles groupings: batik, ikat, and songket.
BATIK
Batik is one of the archipelago cultural heritage that represents the identity of Indonesia in the eyes of the world. The cultural and historical identity of a region is displayed in a piece of batik cloth. Each motif has its own meaning that makes it so rich in interpretation.

Its technique of wax-resist dyeing applied to whole cloth. This technique originated from Java, Indonesia. Batik means lines (baris) and dots (titik) drawn with a spouted tool called a tjanting, or by printing the resist with a copper stamp called a cap.

On 2 October 2009, UNESCO designated Indonesian batik as a Masterpiece of Oral and Intangible Heritage of Humanity, and has been declared as National Batik Day by Indonesian government.

Today, batik has evolved dynamically. Its designs and patterns are uniquely colourful and very eye-catching. Nowadays, batik is commonly worn by Indonesians on any occasions, and more Indonesian fashion designers promote batik as their main material in their creativity.
IKAT
Ikat is formed by binding individual/bundles of coloured yarns in the desired pattern. The bindings may then be altered to create a new pattern and the yarns dyed again with another colour. This process may be repeated multiple times to produce elaborated and multicolored patterns. When the dyeing is finished all the bindings are removed and the yarns are woven into cloth.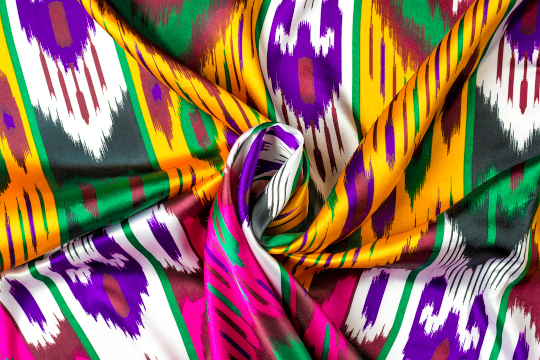 Ikat

Ikat is widely dispersed in Indonesia, such as in North Sumatra, Bali, East Nusa Tenggara, interior of Kalimantan, Sulawesi and Maluku islands.
Songket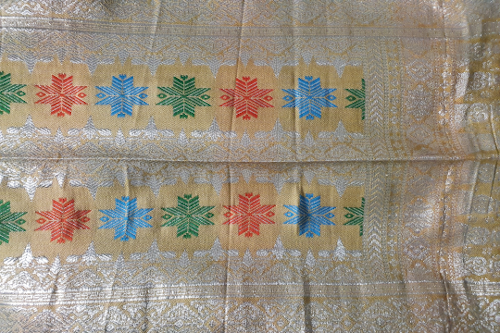 Songket is traditionally considered as an exquisite, luxurious and prestigious traditional fabric, only worn for special occasions, religious festivals, and traditional social functions.

It has become one of dowry for brides and grooms on their weddings, particularly in Palembang, Minangkabau and Bali.

There are hundreds of songket patterns. Songket is considered as an integral part to represent for certain events such as births, marriages, and death. In Indonesia, songket is produced in Sumatra, Kalimantan, Bali, Sulawesi, Lombok and Sumbawa.