Indonesian New Tourism Hubs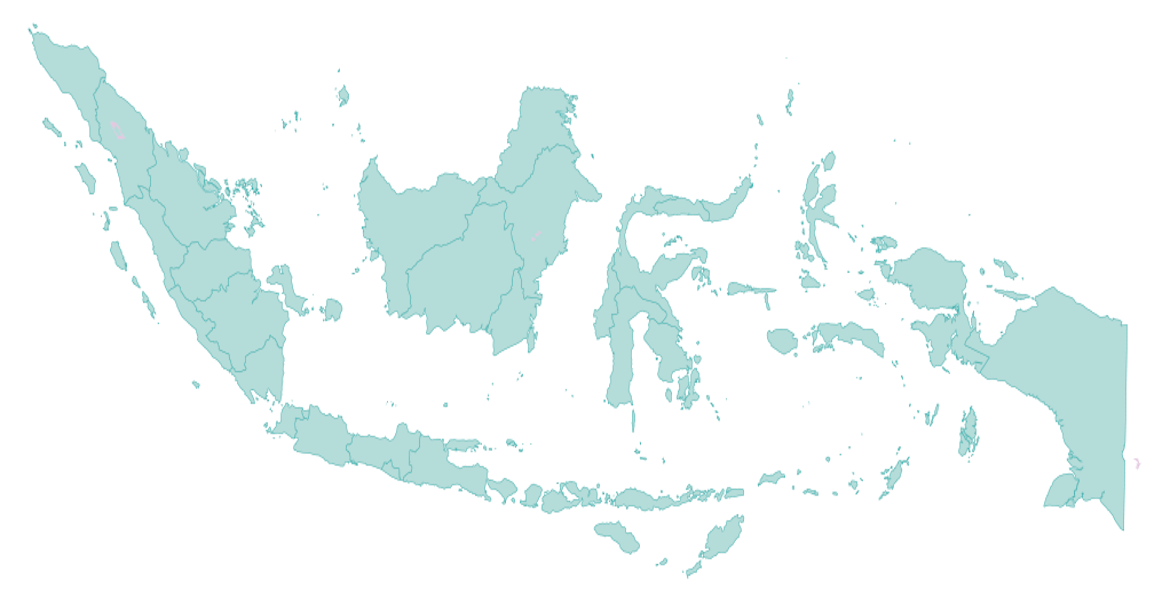 Please Click the

on the Map Above to View the Details
Lombok Mandalika
M andalika, located in West Nusa Tenggara Province, is the first project of integrated ecotourism destination in Indonesia. Having named as Special Economic Zone (SEZ) for agro-industry and ecotourism industry, the government of Indonesia has been advancing this area of more than 1.250 hectares with international standardised amenities and facilities such as golf courses, luxurious hotels and resorts, bars and nightclubs, a thrilling circuit for hosting MotoGP 2021.
Home to beautiful beaches of Lombok, Mandalika offers captivating scenery of Tanjung Aan, Seger, Serenting, and Kuta beach with amusing activities like water sports, fishing, swimming and surfing. Mandalika also offers a unique traditional ritual of Lombok's own Sasak tribe, called Bau Nyale.
Mandalika can be easily reached within an hour drive from Mataram City and 30 minutes from Lombok International Airport. Visitors can rent vehicles or utilise public transportation called Bemo to explore the area.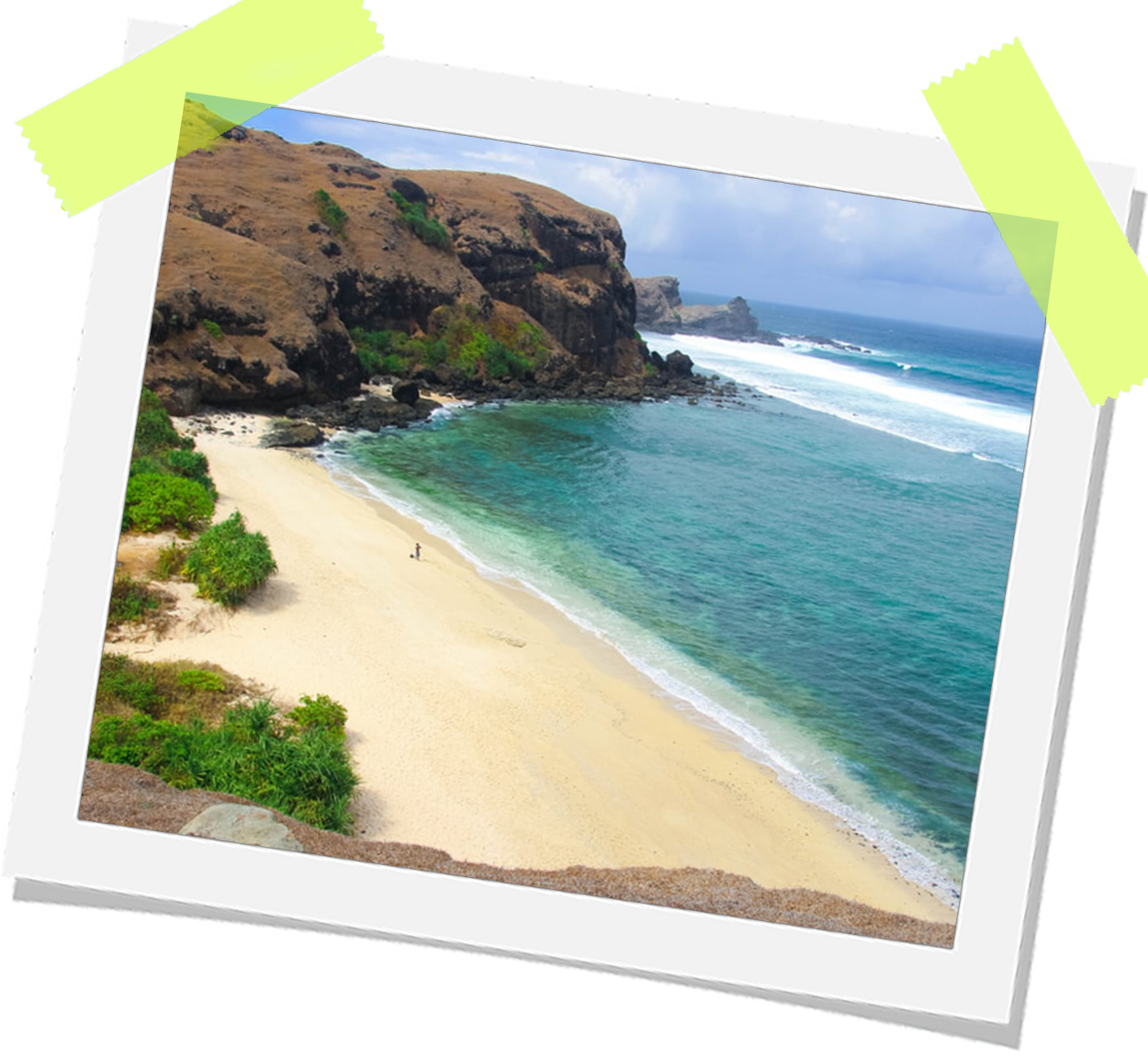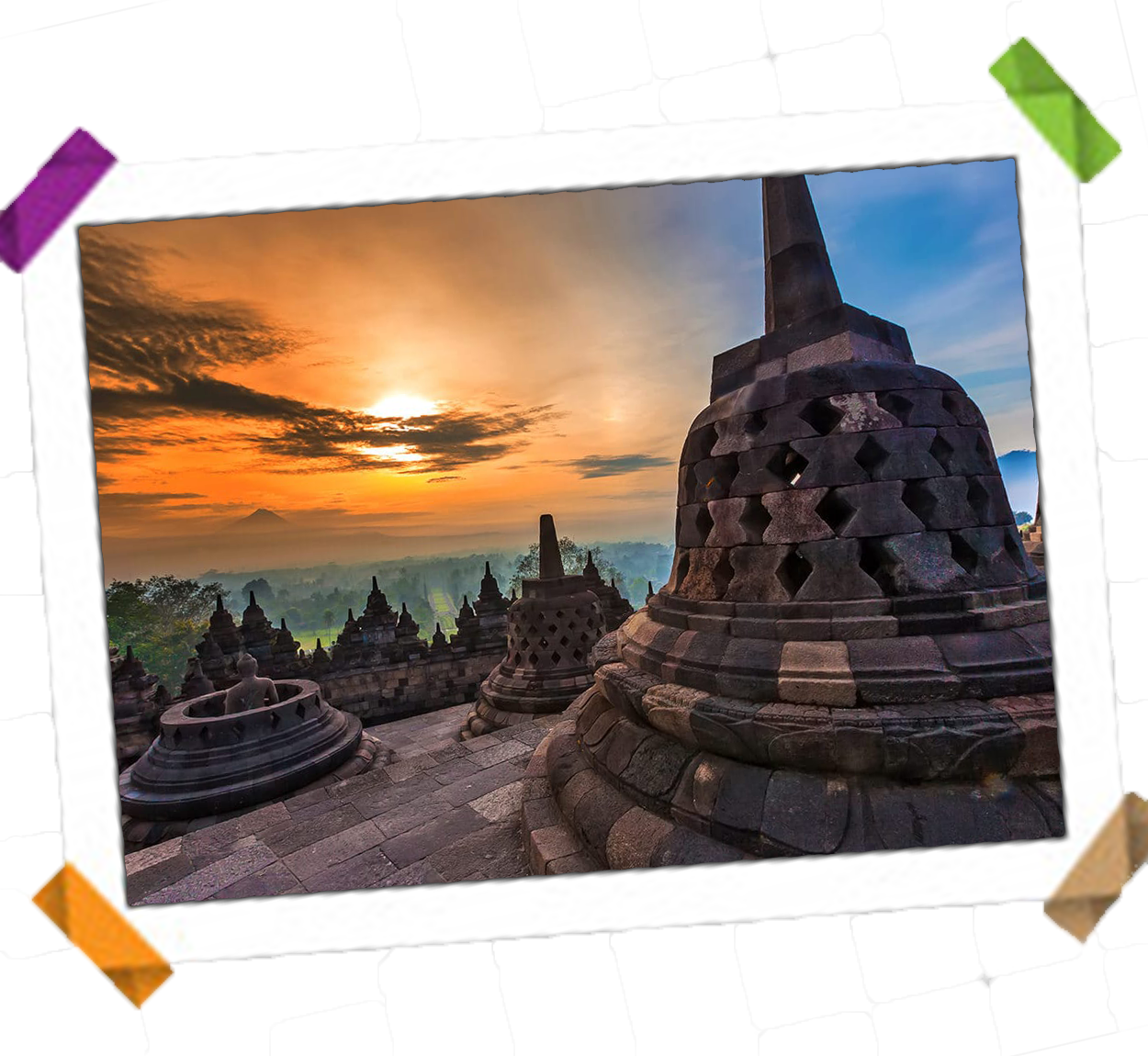 Borobudur
B orobudur is a 9th century Mahayana Budhist temple located in Magelang, Central Java. It is the largest Buddhist Temple in the world which consists of 9 (nine) stacked platforms, 6 (six) squares and 3 (three) circles with a dome at the top. The amazing structure of Borobudur was built by interlocking sets of stones without any kind of cement or mortar. The stone carvings attached to the temple display legends and stories which have great philosophical significance.
Annually, Borobudur hosts the Buddhist ceremony with various traditional and religious rituals. Thousands of Buddhist from Indonesia and across the region congregate to celebrate Vesak day. During the full moon in May or purnama sidhi, a thousand of lanterns will be released into the sky to symbolize enlightenment for the entire universe.
Borobudur can easily be reached from the city of Yogyakarta or Semarang to Magelang.
Lake Toba (North Sumatra)
L ake Toba is Indonesia's largest volcanic lake in the world, located in the province of North Sumatera, Indonesia, 176 km to the west of the provincial capital, Medan. As the largest volcano-tectonic lake in the world, Lake Toba is 87 km long in the northwest to southeast direction and has a width of 27 km. Located 904 meters above sea level and maximum depth of 505 meters. In the middle of the lake lies the wedge-shaped island, Samosir.
The lake is one of Indonesia's important tourist destinations. The natural beauty of Lake Toba has been internationally recognized with its unique geographical position that contained a range of economically significant sources of livelihood for the population, mainly derived from the abundant freshwater resources and the dense tropical rain forests.
Lake Toba offers a variety of tourist attractions, from natural and cultural spots to culinary experiences. Visitors can enjoy various activities including boating, water sports, and tour surrounding attractions, such as adjacent pine forests, waterfalls and museums about the local's Batak tribe ways of life.
Visitors can reach Lake Toba by flying to Kualanamu International Airport and continue with 3-4 hours' drive from Medan, the capital city of North Sumatera Province. Another way to reach this destination is by flying to Silangit Airport which located closer to Lake Toba.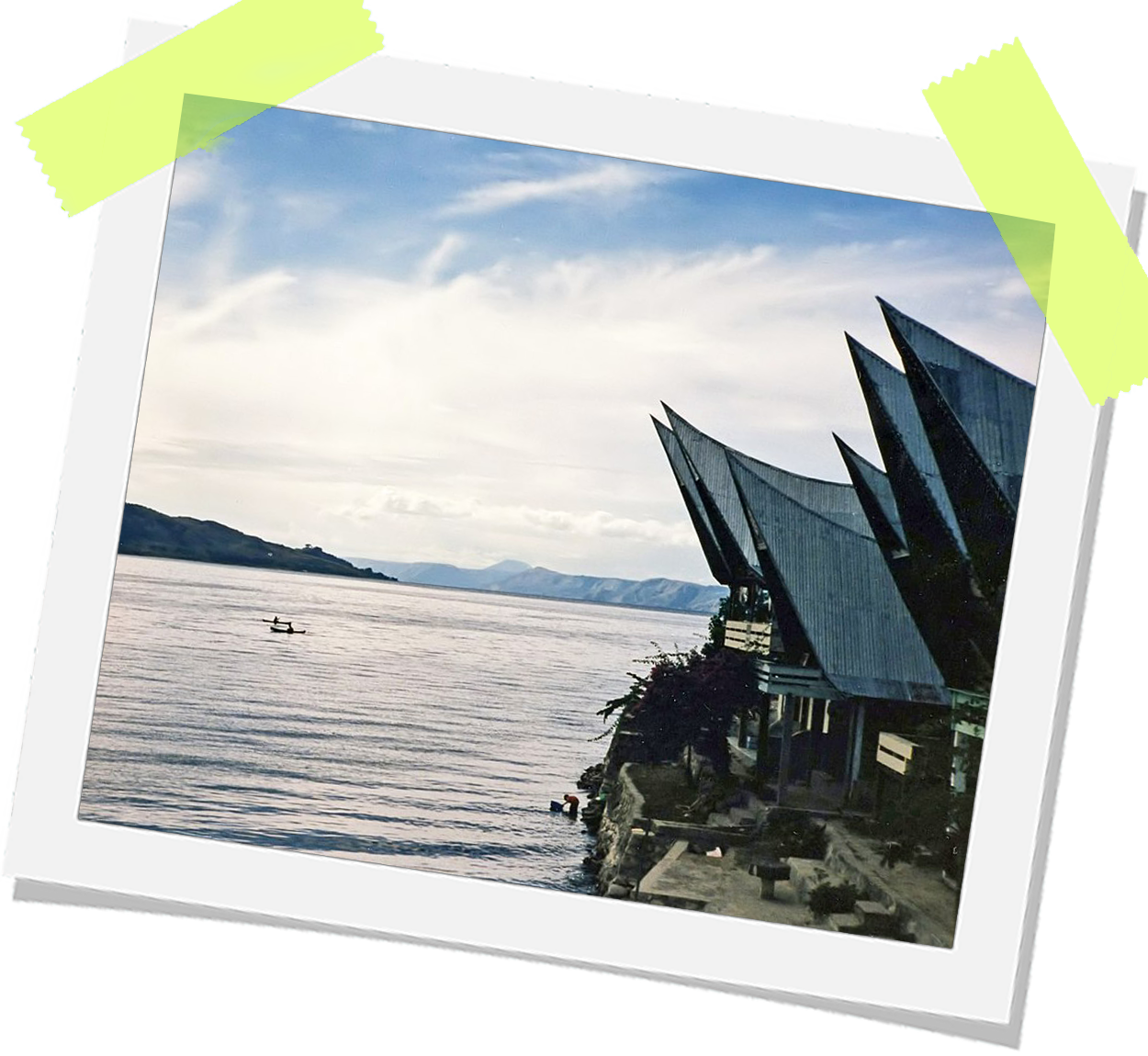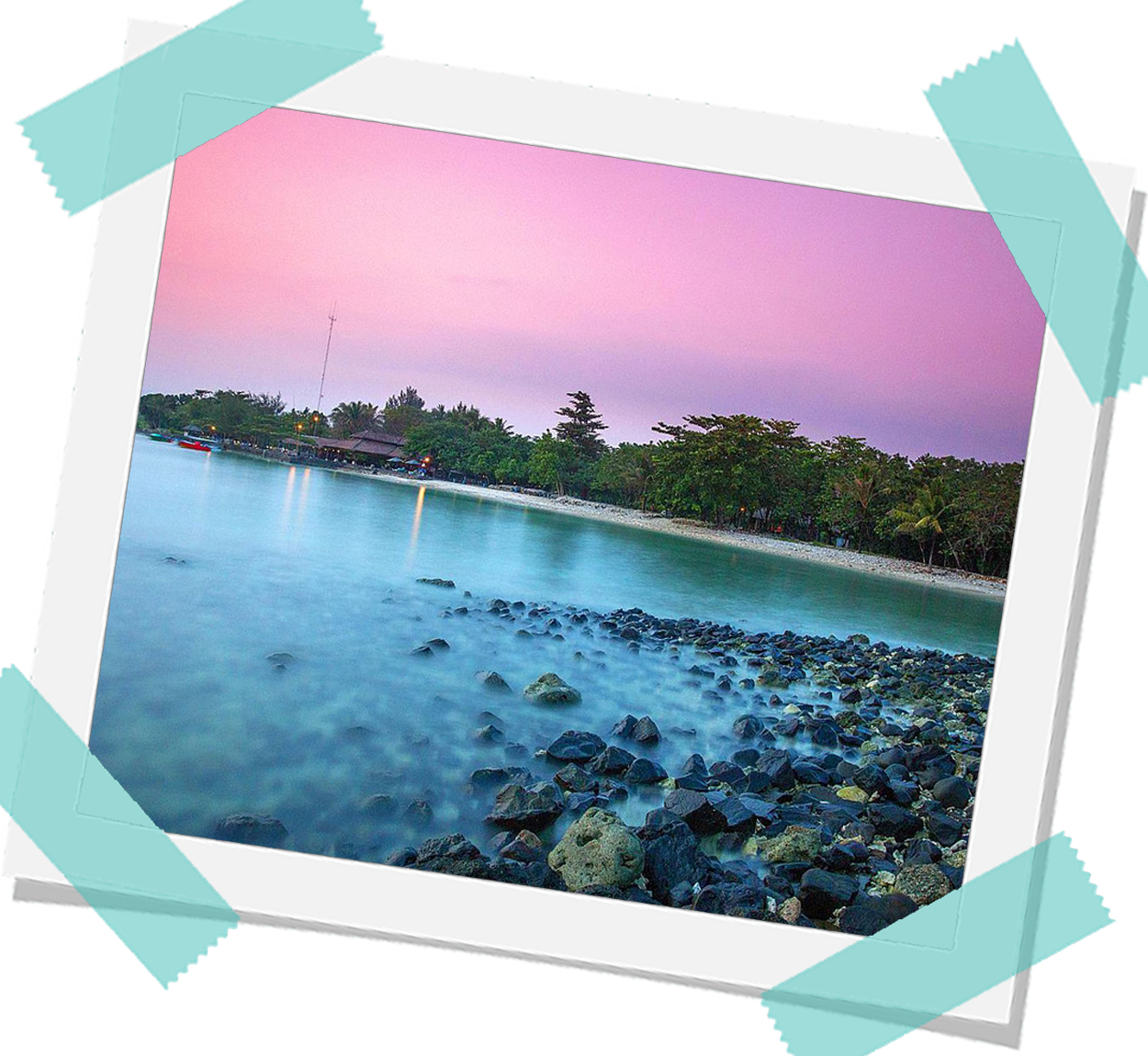 Tanjung Lesung (Banten)
L ocated on the western tip of Java, just 160 KM from the capital, Tanjung Lesung was developed in 1996 and by 2012 it was launched as a part of the government's Special Economic Zone (SEZ) in the tourism sector. It is an investment project with a massive area of 1.500 hectares for tourist spots such as natural attractions and cultural wealth.
The development of Tanjung Lesung is an integrated beach resort for recreation and hotels overlooking Mountain Anak Krakatau. In Tanjung Lesung, there is also Ujung Kulon National Park which is the last refuge of the endangered one-horned Rhinoceros, the Baduy Ethnic Tribe, also Panaitan and Peucang islands.
To get to Tanjung Lesung one can drive from Soekarno Hatta International Airport Cengkareng for 4-5 hours (around 180km) or take a boat from Ancol Marina Jakarta for 4 hours or from Carita Banten for an hour.
Seribu Archipelago (Jakarta)
S eribu Archipelago or in Indonesia called Pulau Seribu, literally means a thousand of islands. Located in Java Sea, a stone's throw away from Indonesian Capital Jakarta, Seribu Archipelago consist of almost 128 small islands. Most of these are inhabited and are already developed into resorts, with others privately owned or designated as national park areas. Among the 11 populated islands, with the total population of 20,000, has historical remnants left behind from Dutch colonial fortresses and a centre dedicated to the study of marine conservation.
The surrounding reefs are home to a wide variety of fishes, making Seribu Archipelago an ideal spot for diving, snorkelling and fishing. Some of the islands are Pulau Bidadari, Pulau Ayer, Sepa, Pelangi, Bira, Pantara, Kul-kul and Pulau Putri.
The location can be easily accessed by ferries from Ancol Marina, North Jakarta. Seribu Archipelago has a strategic location of 45 kilometres from Jakarta.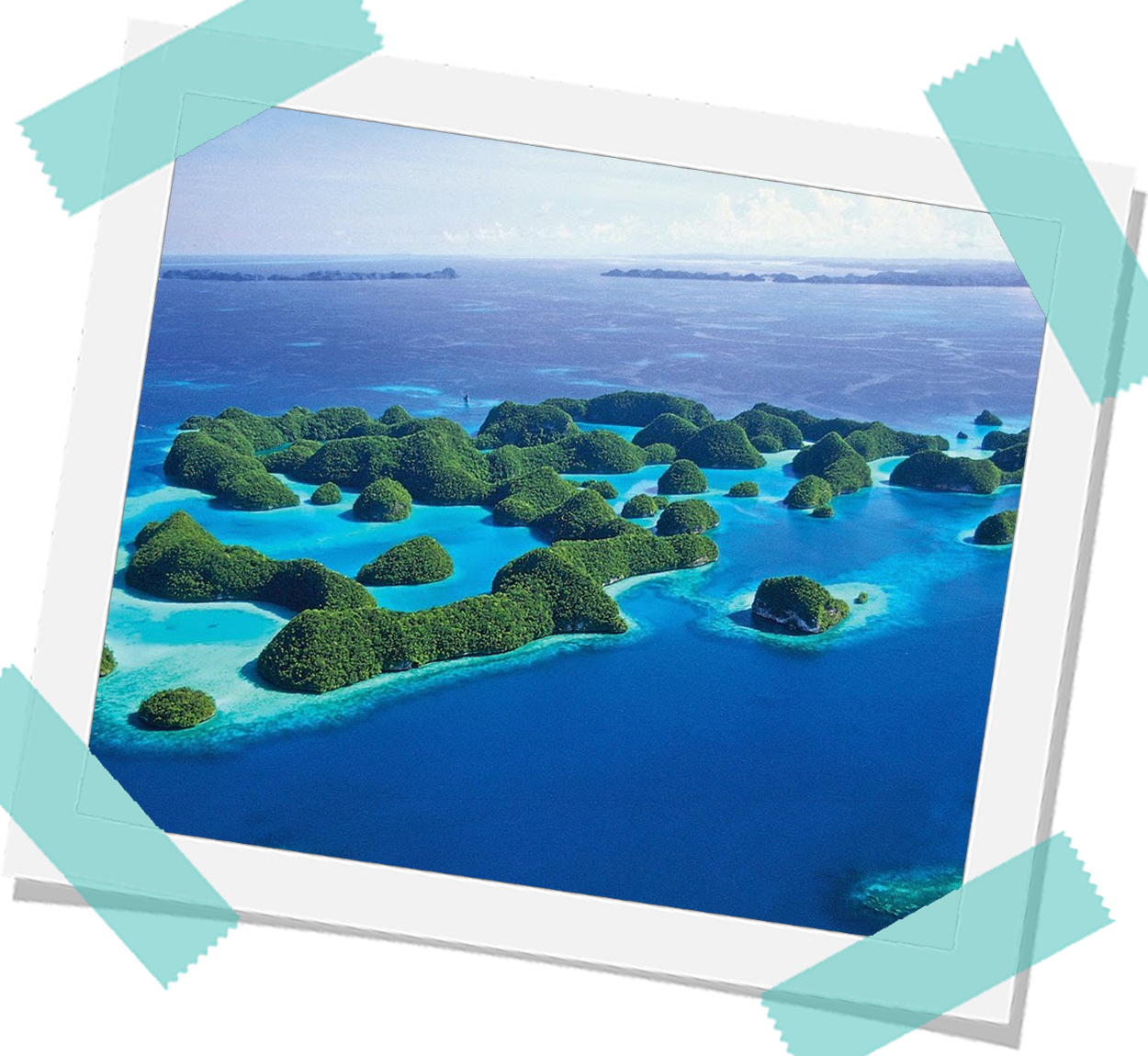 Tanjung Kelayang Beach (Bangka Belitung Islands)
T he coast of Tanjung Kelayang in the northern part of the Belitung island is the heart of its splendour. Bordered by the Gaspar and Karimata Strait, off the eastern coast of Sumatra, Belitung is a beautiful island blessed with magnificent landscape, divine beaches, and outstanding scenery. This tropical wonderland is truly a place to get a glimpse of what paradise would be like.
Once a secluded getaway, Tanjung Kelayang is now evolving into a vast integrated resort following the government's policy that designated the area as a 324,38-hectare Special Economic Zone (SEZ). Here, pearly white sandy beach, unsullied sea, and nothing but tropical wonder await. Moreover, what makes it truly unique is the formation of the fascinating boulders that beautifully decorate the beach. These huge slabs of granite extend to the sea and they seem to have been strewn here by the hands of mother nature. Some of these boulders formation even resemble animal silhouettes, notably the shape of a swallow or kelayang, hence the name. Mesmerising rock formations litter this unique beach location that coupled with its crystalline waters, undeveloped coastline and landmark white lighthouse, make it a charming location for a further enterprise.
One can fly to H.A.S Hanandjoeddin International Airport in Tanjung Pandan, the capital city of Bangka Belitung Province and drive for 30 minutes to get to Tanjung Kelayan while enjoying the perfect and fascinating scenery of the island.
Mount Bromo (East Java)
B romo Tengger Semeru National Park is located in the East of Malang and the Southeast of Surabaya, the capital of East Java. Being the largest volcanic region in the province, this National Park covers a massive area of 800 square km and situated at an altitude of about 2,100 metres.
To get to Bromo one can travel by air from Malang or Surabaya airports and continue the journey by driving. If taking public transports, one can use buses from Wonokitri or Probolinggo.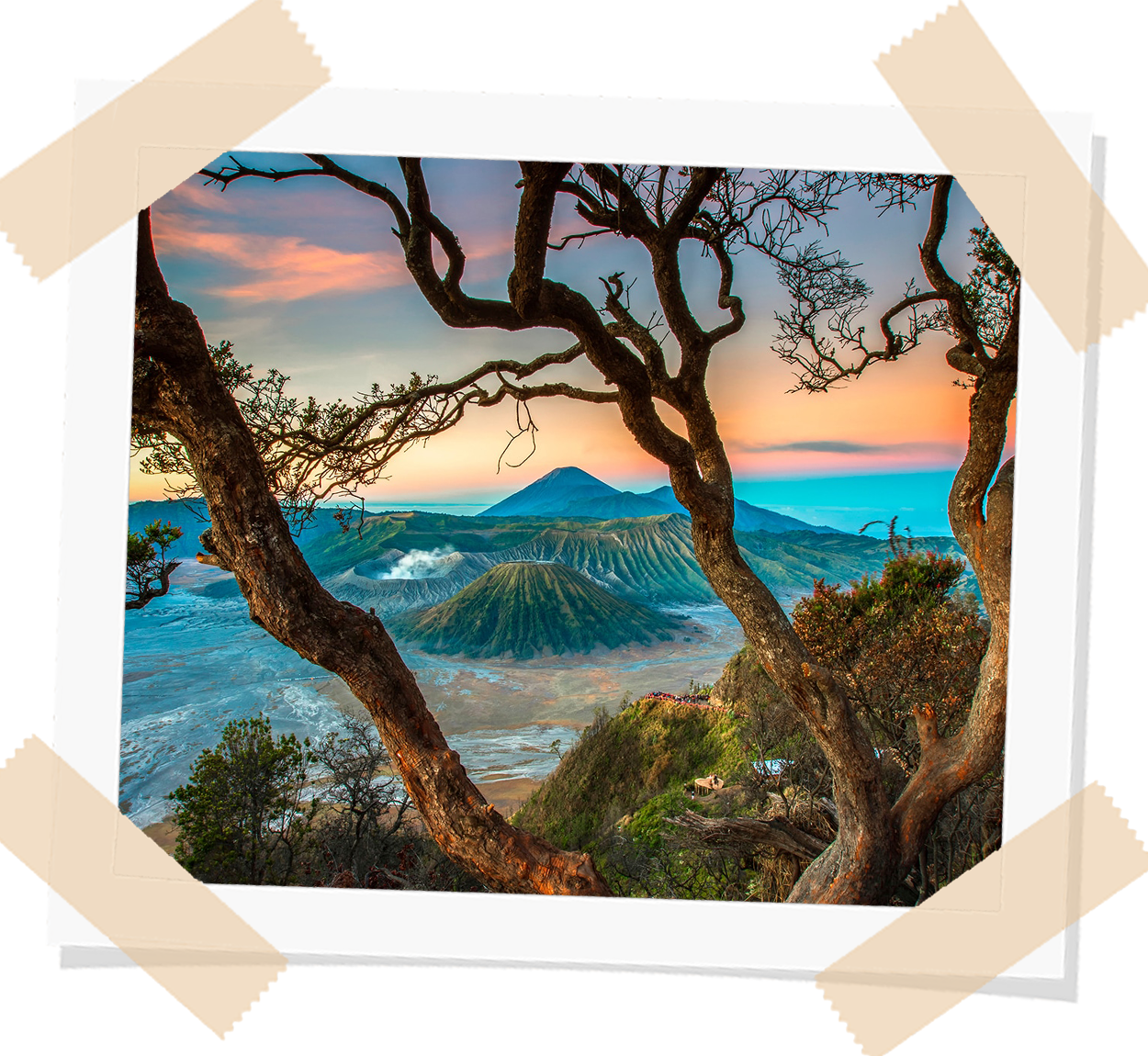 Labuan Bajo (East Nusa Tenggara)
T his once fishing village stationed on the western side of Flores Island is now the gate of the world for ecotourism in East Nusa Tenggara. As part of Indonesia's Special Economic Zone, Labuan Bajo will become a launching point to explore the Komodo National Park. Labuan Bajo has been appointed as World Heritage Site and Man and Biosphere Reserve by UNESCO in 1986 and the Komodo National Park was listed as UNESCO's World Heritage Site in 1991.
The Komodo National Park includes Komodo Island, Rinca Island, Padar Island and numerous smaller islands. It hosts one of the most diverse marine environments and home to the famously known Komodo dragon.
Visitors could get to Labuan Bajo by aeroplane from Bali or by bus from Mataram, Lombok.
Wakatobi (South Sulawesi)
W akatobi consists of a group of islands, namely Wangi-Wangi, Kaledupa, Tomia, and Binongko which is located in Southeast Sulawesi. The National Marine Park is covering a total of 1.4 million hectares of diverse colourful species of tropical coral reefs. The islands are also famous as the largest barrier reef in Indonesia, second only to the Great Barrier Reef in Australia. Wakatobi located in "Coral Triangle", a triangular area of the tropical marine waters of Indonesia, Malaysia, Philippines, and Solomon Islands.
It has more than 900 species of fishes, 850 known types of corals, and 50 spectacular dive spots. Wakatobi is the habitat of large and small fish species, the playground of dolphins, turtles, and even whales.
To get to Wakatobi visitors can go to Bau-Bau Airport in Kendari, Southeast Sulawesi (from Jakarta, Surabaya, or Bali) then continue with a boat ride to Wakatobi.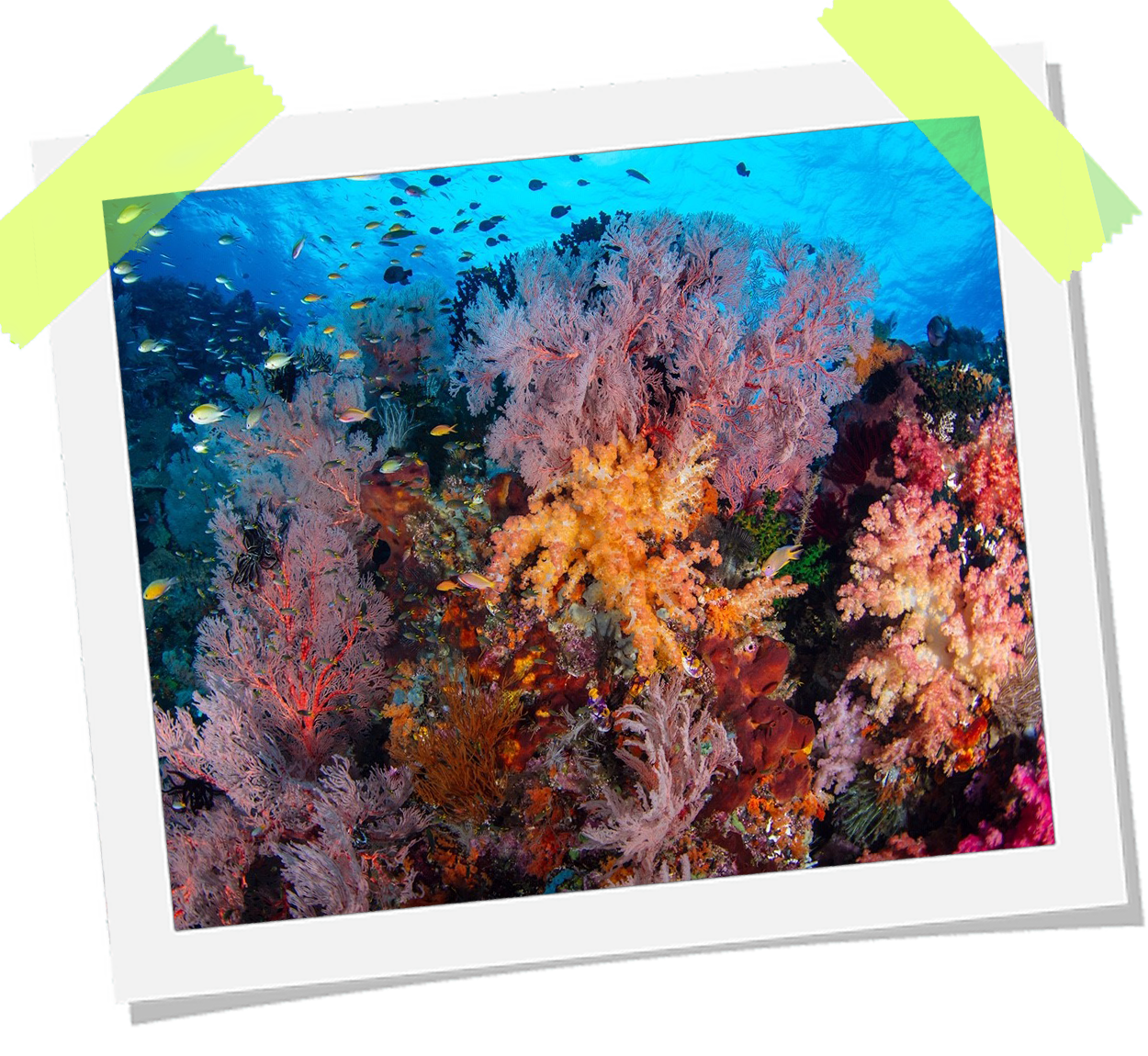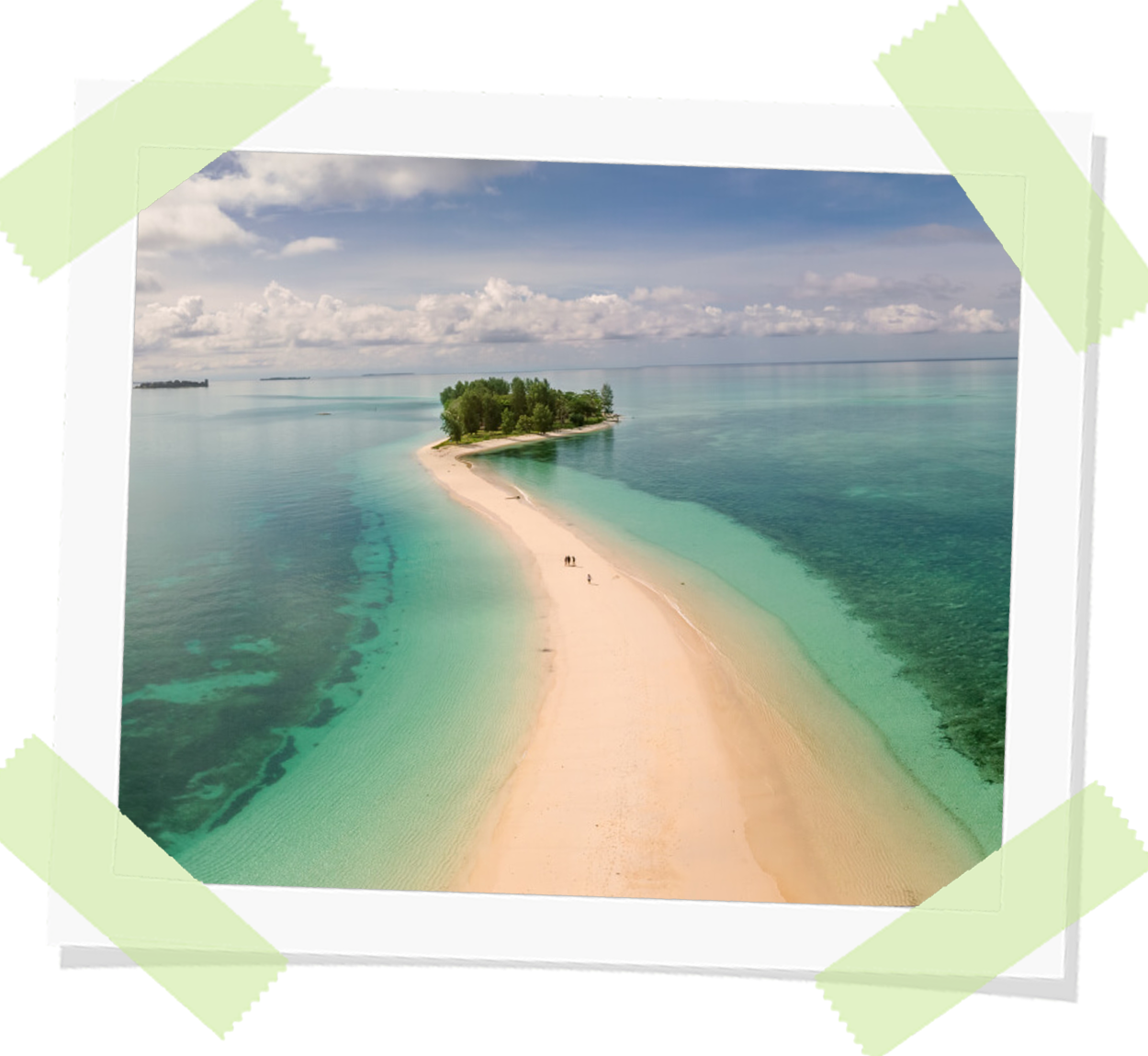 Morotai Island (North Maluku)
T his northmost part of Indonesia's archipelago, one of the "Spice Island", is now part of the government's strategic tourism development plans as an economic hub and gateway into Indonesia from the Pacific Ocean. The island of Morotai with a total area of 1.100 hectares has been designated as one of Indonesia's Top Priority Tourist Destination for intense resort development as a fishery, tourist, trade and services centre.
It has a total population of 53.000 people and very popular for diving and fishing spots offered in the periphery of its marine parks.
The nearest airport to Morotai is Sultan Babullah in Ternate city. Upon arrival, visitors need to continue the trip overland to Tobelo and take a two-hour ferry ride to Daruba seaport in Morotai.
Other Destinations
Raja Ampat
A hidden paradise at the far eastern part of Indonesia, Raja Ampat, is almost magical.
It will make you forget about life outside this island for a moment with all the spectacular wonders above and beyond its waters, as well as on land and amidst the thick jungles. Situated off the northwest tip of Bird's Head Peninsula on Papua, the most eastern island of the Indonesian Archipelago, Raja Ampat or literally meaning 'The Four Kings' is an archipelago comprising over 1,500 small islands, cays, and shoals surrounding the four main islands of Waigeo, Batanta, Salawati, and Misool. The name Raja Ampat itself is believed to derive from a legend where a woman found seven eggs, with four of them hatch and become the kings of the four main islands, while the other three became a woman, a ghost, and a stone.
Raja Ampat's diversity of marine life and the enourmous virgin coral reef systems are a true definition of paradise for divers and snorkelers, as stated by The Nature Conservancy and Conservation International that around 75% of the world's species live here. Not only underwater, the landscape above the surface is equally breathtaking. It offers a one of a kind nature aesthatic which seems like the finest work of art. On top of the hill or on the islands, you will be mesmerized by its spectacular landscapes. What makes the whole journey unfiorgetabble is the disticn hospitality offered by the people. At the Arborek Tourism Village, you can observe Papuans daily life and traditions, complete with its traditional folk songs and dances.
To get to Raja Ampat, you should first fly to the Domine Eduard Osok Airport in Sorong. After that a small aircraft could take you to Waisai, the capital of the district of Raja Ampat, or you can also take a ferry from the port of Sorong to the islands.